If you're anything like many drivers here in Ontario, then you've got an automotive wish list that's full to brimming with tough, durable pickup trucks. And since you're browsing our site, we're willing to bet that some of our latest Ram trucks occupy top spots on that wish list. Well, fellow truck fan, if you love these heavy hauling vehicles as much as we do here at Ontario Auto Ranch, then March is going to quickly become your favorite month of the year. That's right folks, Ram Truck Month is back!
?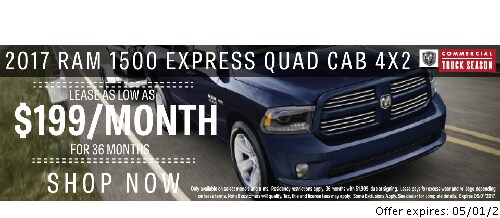 For those who aren't in the know, Ram Truck Month is one of the best times of the year to get your hands on a truly exceptional new Ram truck and get a great deal while you're at it. With special Ram truck financingoffers of 0% APR for up to 36 months and $2,000 bonus cash or up to $11,506 in total values on select Ram 1500 models, it's all too easy to get a capable truck at a truly competitive price.
That said, as exciting as Truck month is, it doesn't stick around forever. So, if you're looking to get behind the wheel and check off one of the boxes on your automotive wishlist, stop in to Ontario Auto Ranch to test drive the new Ram 1500 and take advantage of the exceedingly attractive Ram Truck Month financing offers we have today!